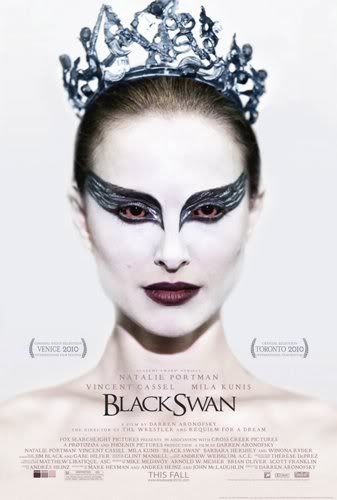 WARNING: spoilers ahead
There's a certain kind of authenticity that characterises the films of Darren Aronofsky. Regardless of the style or subject matter, his narrative worlds feel lived in and truthful, and this trend continues in Black Swan. Even if it might not be an entirely accurate depiction of the ballet world, Aronofsky manages to make it feel very real, and in the realm of fiction and cinema, this is arguably just as, if not more, important than accuracy. 

The cinematography contributes hugely to this sense of realism, of course, with the film bearing some similarities to The Wrestler in this regard: the hand-held work, the over the shoulder, following-the-subject pseudo-documentary feel. Aronofsky also continues his practice of intense close ups, saving wider shots mainly for the performance of Swan Lake in the film's climax. These close ups also depict Natalie Portman as a not unrealistic beauty: we see the sweat and the strain on her face clearly as she works, the tight muscles moving as she executes the various ballet moves. 


Another contributor to this sense of realism is the utterly mesmerising sound design. Aronofsky has this very intriguing approach to sound that is very dry, very dense, and tends to emphasise sounds that most other films would be happy to shove to the background. In The Fountain, it was a thick layer; here we're treated to every breath, every footfall, every creak of the stage being placed front and centre – who knew those delicate ballet shoes could make so much noise? It contributes so much to Nina's (Portman) sense of things caving in on her and demonstrates the power of sound, in that we are often unaware that it is having an effect on us.

While we're on the topic of sound, I think Clint Mansell, Aronofsky's composer of choice, did a bang up job on the score as well – a reconstruction of Tchaikovsky's original Swan Lake score that infuses each cue with a mix of classic orchestral melody and menacing electronic underscore to great effect (see 'Opposites Attract' and 'Stumbled Beginnings' on the album). Although I have to admit I did miss his trademark minimalism which is so perfectly suited to Aronofsky's films. When it was confirmed that Mansell was on board and was planning to rework Tchaikovsky, I was looking forward to Swan Lake-meets-The Fountain. What he did probably makes more sense in the end, and as much as I'm enjoying listening to the score on album, with its moody undertones and moments of orchestral majesty, I can't help but think that this was a missed opportunity for something very special.

In all respects, though, Black Swan is a very intense film, and, like all the best films, holds up to multiple readings. I, for one, loved seeing the idea of the doppelgänger, the double, played out so faithfully – that is, 'a literary technique by which a character is duplicated (usually in the form of an alter ego, though sometimes as a ghostly counterpart) or divided into two distinct, usually opposite personalities' [1] – or, to use medical/psychology parlance, the 'syndrome of subjective doubles', which is 'the delusion that [a person] has a double or Doppelgänger with the same appearance, but usually with different character traits and leading a life of its own' [2]. Interestingly, such cases have also been known to involve more than one double on occasion. All of which makes for a very interesting reading of not only Nina, but Lily's (Mila Kunis) character as well. Then, of course, there's the overt sexual elements, and the portrayal of an individual's psyche breaking down under such intense (mostly self-inflicted) pressure, both of which were amazingly handled.

The film built to a most satisfying conclusion, leaving just enough ambiguity to encourage discussion. I think Aronofsky achieves this by totally avoiding flashbacks, which films like The Sixth Sense have used to definitively explain what was happening. There is no such 'Ah, so that explains it!' moment here, and the film is all the more powerful for it. Aronofsky focuses on the slow burn instead, building clues and other significant visuals into the first two thirds of the film (the presence of a mirror or reflective surface in every scene apart from the final performance has been well documented) before giving way to an all-out metamorphosis in the final third that is totally convincing. Nina, already possessing a fragile ego, is trying to deal with the pressure of her role as the Swan Queen by trying to balance her 'light' and 'dark' sides – under that strain, something will eventually give. At the very least, the sudden turn to violence and intensity makes much more sense here than it did in, say, Woody Allen's Match Point. A strange comparison, I know, but I hated the way Jonathan Rhys Meyers' character suddenly flipped in that film, unconvincingly turning to murder as the most feasible (narrative) option for dealing with his (moral) situation. Taken as a moral action, it certainly wasn't feasible in Black Swan either, but it made a lot more (narrative) sense when it happened.

And I hardly have to say it, given the almost universal praise and nominations she's receiving, but Portman shone in what I felt was an entirely unsympathetic role. There's really nothing about Nina that is endearing – she's selfish, aloof, grasping, temperamental, and she's closeted herself away in a childish ballerina dreamland that comes crashing down around her in that amazing final act. And Portman throws herself right in there with a very physical performance, for which she is reported to have lost a further 10kg off her already miniature frame in order to get that delicate ballerina look. Performances across the board were very solid as well – Barbara Hershey as Nina's controlling and overbearing mother (who contributes in no small part to Nina's ballerina dreamland), and a well-cast Winona Ryder as a past-her-prime prima donna were highlights; Vincent Cassell oozes slimey charm as the company's director, and Mila Kunis is also good as Lily, but the character is little more than a foil for Nina, which is the point of course, but of all the major roles, it is probably the most thankless.

In a strange turn, though, I found the visual effects a little lacking. Unlike The Fountain, which did amazing things with practical and in-camera effects such as when the flowers burst from Tomas' stomach and the petri dish micro-photography to depict the nebula, I was surprised by the reliance on CG here, which was a bit of a letdown. And not only a reliance on it, but not very convincing use in some scenes either. From the trailer, I thought they were going to do a similar thing as the flowers when Nina plucks the feather from her back, and later when she finally transforms and the swan wings form, but the majority of this was CG (at least it seemed like CG to me). In the scheme of things, though, this is a minor criticism in an otherwise virtuoso piece of filmmaking. 

Black Swan is not for the faint of heart. Nor is it for the immature people giggling two rows behind me during the (overly-hyped) sex scene and other sexual moments, of which there are a few. Otherwise, I think it's fair to say that Darren Aronofsky has cemented his place as probably the most intriguing and exciting of an emerging crop of directors. Bring on Wolverine, and that rumoured Noah's Ark pic...
References:
[1] http://www.gale.cengage.com/free_resources/glossary/glossary_de.htm
[2] http://www.righthealth.com/topic/Syndrome_of_subjective_doubles